The Medals Presented to Sabine Pass Veterans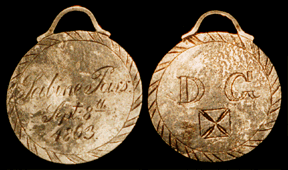 President Jefferson Davis was elated when he heard the news of the victory September 8, l863, at Sabine Pass.
He sent his personal congratulations and ordered a medal to be struck for the Davis Guard (as Lt. Dowling's men styled themselves). This medal was the only honor of its kind known to have been bestowed on Confederate soldiers during the war.

The Davis Guard medal was fashioned from a Mexican silver peso, each side smoothed off and engraved. The obverse side was inscribed in three lines, Sabine Pass / Sept 8th / 1863. In honor of the company's Irish heritage, a kelly green ribbon was attached to the suspension loop.

According to the October 12, 1863, Houston Daily and Tri-Weekly Telegraph, grateful citizens of Dowling's home town of Houston raised money to fund the manufacture of the silver medals. For the officers, a similar medal was cast in gold, for which Houston ladies contributed their jewelry and men their watch cases to provide material and funds. On the 8th of September, 1864, the first anniversary of the battle, the ladies of Houston presented a medal to each member of the Davis Guard. Years later, in his memoir, Rise and Fall of the Confederate Government, President Davis devoted four pages to the Battle of Sabine Pass, listing the name of each officer and enlisted man who received this medal. He wrote that the heroics of the Davis Guard were "without parallel in ancient or modern war."